The final stage of the Onmyoji x Inuyasha crossover event is here! Across Time and Space, to Our Destined Meeting
Back
Snowflakes are swirling through the air on this cold, cold night. The moonlight shines down from the dark sky onto the glistening white snow. Two figures are locked in close battle in the wilderness, one in red, the other in white. The clash of blades echoes in the air. Demonic forces erupt and grapple in the icy wind. Their blades sparkle and flash in the white light of the moon. A figure appears on the snowfield, followed by Soul Collectors.
The third stage of the Onmyoji x Inuyasha crossover event is here! Inuyasha, Sesshomaru, and Kikyo visit Heian-Kyo for the last time. Limited-edition skin available soon in Heian-Kyo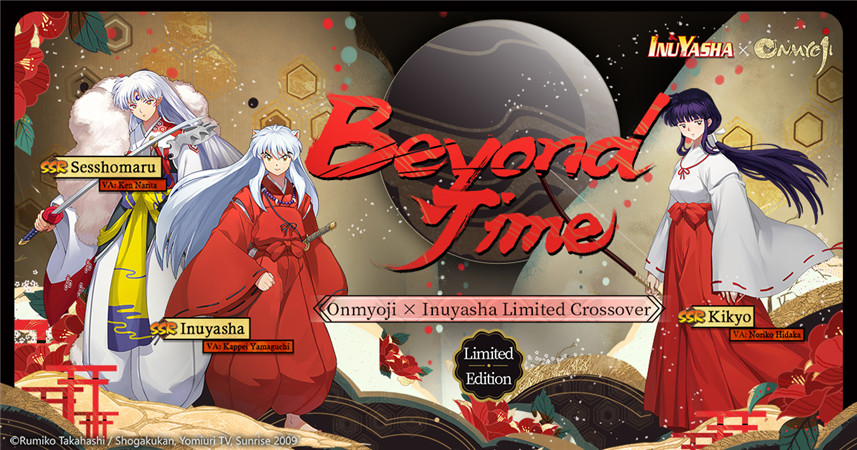 After the maintenance on March 13th and before 23:59 on March 19th, summon via Mystery Amulet, Jade, or AR Amulet during the event for a chance to receive the shards of Inuyasha, Sesshomaru, and Kikyo. Clearing the Kikyo Demon Force zone also grants Kikyo shards. Collect 50 shards of Inuyasha, Sesshomaru, or Kikyo to summon the limited-edition SSR. Check announcements and the official fan club for details on how to get them.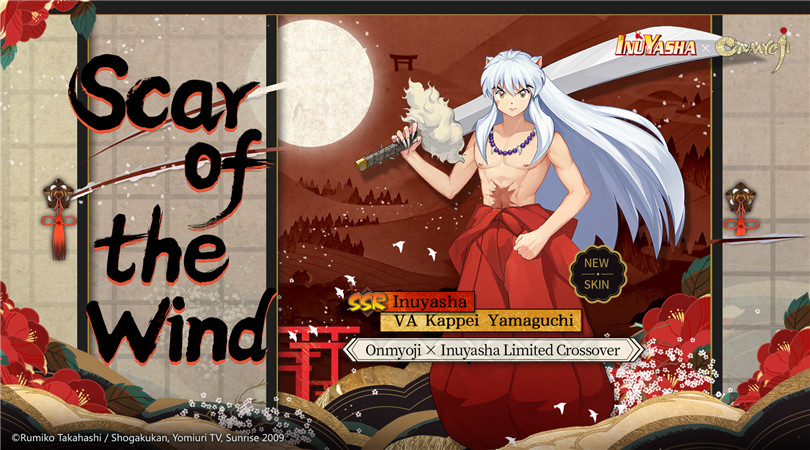 Inuyasha Skin: Scar of the Wind
The shadows of trees are reflected upon the moonlit lake, where a flurry of footsteps breaks the peace. The roars of a beast shatter the stillness of the night.
A demon flees helter-skelter into the lake. Behind him, a red figure gives chase.
"Wind Scar!"
A whirlwind of energy rushes forward. We hear Inuyasha's cry toward the demon in front.
Blood is oozing from the scars on his face. His Fire Rat robe lies around his waist, revealing the striking scar on his torso.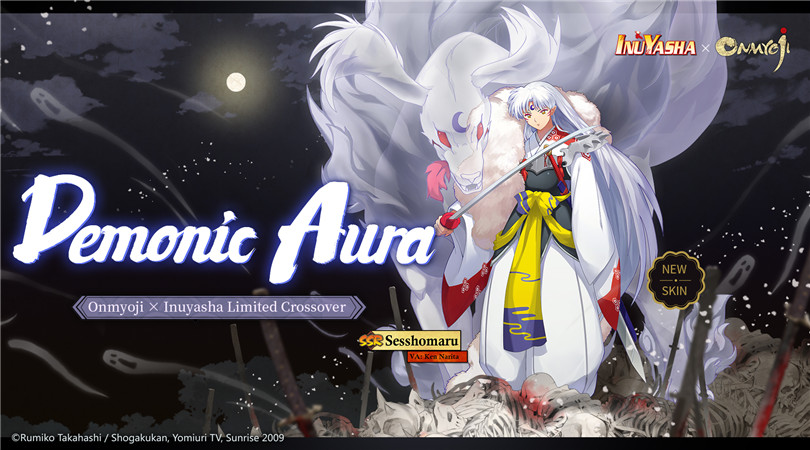 Sesshomaru's Skin: Draped in Moonlight
A full moon rises slowly in the clear night sky. Under the full moon and besides the high mountain, a gentle breeze blows, carrying a hint of blood in the air. Blood-drenched bones and skulls are strewn across the ground. Vengeful souls surge up from the piles of bones. Sesshomaru stands alone among the bones, a cold and arrogant look in his eyes. Emotionless, he glances at his silver blade. The look in his eyes grows colder.
He wears a soft and elegant kimono, with plum blossom embroidery on the sleeves. The spikes on his left spaulder shine cold in the moonlight.
Thoughts traveling across time will eventually reach the shores of destiny. Obsession has passed, and true freedom will come. The journey of the three in Heian-Kyo is reaching its end. Amulets fall slowly, filled with hopes and blessings. Are you ready for the next step?
About Onmyoji

Created by NetEase and presented by Mamba Interactive Entertainment, Onmyoji is a beautiful, ethereal, Japanese-inspired semi-RTS turn-based RPG game. Incorporating elements such as card collection, character development, LBS social interaction, 100+ shikigami waiting to be evolved, and stylish 3D graphics, the Japanese-themed mobile game Onmyoji awaits you to embark on a fantasy journey!
Official Website: https://en.onmyojigame.com
Facebook: https://www.facebook.com/Onmyojigame/
Discord: https://discord.gg/gB4VRHq
Twitter: https://twitter.com/Onmyojigame
Instagram: https://www.instagram.com/onmyojigame
YouTube: https://www.youtube.com/channel/UCgHDGNxYhvXb_LlVd6RVRmQ
Forum: https://forum.onmyojigame.com/
For customer support, you can submit your questions in-game or contact:gameonmyoji@service.netease.com
DOWNLOAD